LAS VEGAS WALKING TOURS
Fun, affordable, informative and quite possibly the best travel activity!
Book Now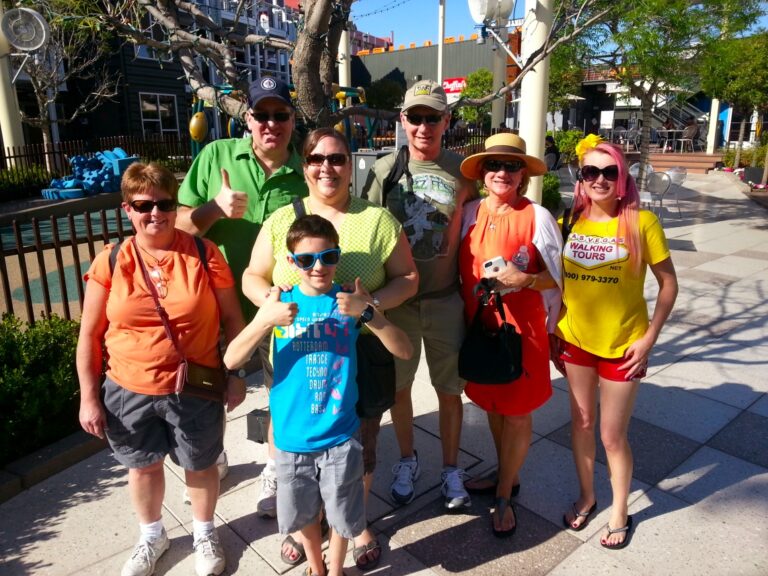 Las Vegas is one of the most electric, energized cities in the world but there's also so much more to Sin City than meets the eye.
At Las Vegas Walking Tours, we know that many travelers want to experience a destination on a more intimate, local, level and get to know a location 'from the inside'. Learn how things began, what makes the city tick, and where the 'must go, must see' places are. If this is you then you have come to the right place.
So, for those of you who come to Las Vegas and want to do more than just walk 'the strip', come spend a couple of hours with us. We're sure you'll have a wonderful time learning about and experiencing a Las Vegas you didn't know existed.
We know you're looking for things to do in Las Vegas, why not consider a walking tour! Las Vegas Walking Tours are fun, affordable, informative, and quite possibly the best travel activity. Walking tours accommodate families, couples, and even the single adventurous traveler while offering the opportunity to meet other travelers from around the world and possibly even make new friends.
"We really enjoyed it, was one of the highlights of our trip." – Jill Flynn – Glasgow, Scotland
Let Las Vegas Walking Tours take you on a journey through Downtown Las Vegas' historic Fremont Street that you can only get by foot. See Vegas like you've never seen before or didn't know existed as local residents and Vegas historians share their knowledge, passion, and enthusiasm of fabulous Viva Las Vegas!
Receiving the TripAdvisor 'Travelers' Choice' Award, 'Certificate of Excellence' five years running and awarded as 'Walking Tour Operator of the Year – 2020' by the Luxury Travel Guide, our group sizes are limited to help ensure a more personal experience with your guide who is pleased to answer all your questions. You will also be outfitted with a wireless ear-monitor and volume control to ensure you hear every word along the way. So feel free to jump in and join the conversation, or just sit back and take in the sites, sounds and stories.  There's a lot more to Las Vegas than meets the eye, let us lead the way.
"the best walking tour I have been on in 15 years!" – Greg Hare – San Diego, CA
Accolades:
USA Today – 10 Best 'Tours and Excursions in Las Vegas' – 2021
TripAdvisor 'Travelers' Choice',  'Certificate of Excellence'- 2016-2020
Luxury Travel Guide / Prestige Awards – Winner 'Walking Tour Operator of the Year – NV', 2017, 2020, 2021
Travel and Hospitality Awards 'Walking Tour Company of the Year – Americas/Nevada', 2018, 2021
Travel and Hospitality Awards 'Tour Company of the Year 2019 – Americas/Nevada'
Best of Las Vegas 2017, 2018 – 'Best Tour'
Viator 'Top Rated'
Very informative. Demonstrated genuine passion for Vegas. Loved all the history. Gave great recommendations for a restaurant.

Roving56685058691


May 5, 2023

Fantastic tour! - This was a great tour. Kelly was clearly passionate about the city and its history and delivered this in a fun and engaging way.

The tour moved at... read more a good pace and the use of headsets meant it was easy to hear and keep up what what was being discussed.

I'd heard about the tour through the "on the corner of main street" podcast but the word needs to be spread as this honestly, was one of the best things I've done in multiple trips to the city!

S7651EUlaurens


May 2, 2023
Our guests' health is always a priority and we have put extra measures in place to help ensure your safety!
Our guides are

fully vaccinated

.



Stringent Cleaning – Audio headsets will continue to be cleaned & sanitized before each tour with disinfectant aerosol and wipes. Each headset now also receives a 'deep-clean' via HoMEDICS® UV-CLEAN Sanitizer which has been clinically proven to kill up to 99.9% of bacteria & viruses at the DNA level with UV-C light.
Masks are no longer required in public places nor on our tours however we do visit inside two properties so please feel free to continue mask use at your discretion.