LAS VEGAS WALKING TOURS
Fun, affordable, informative and quite possibly the best travel activity!
Book Now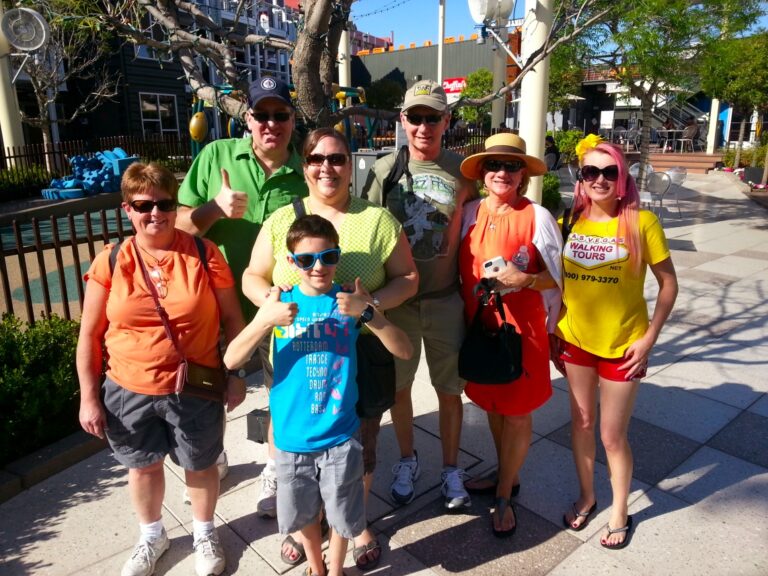 Las Vegas is one of the most electric, energized cities in the world but there's also so much more to Sin City than meets the eye.
At Las Vegas Walking Tours, we know that many travelers want to experience a destination on a more intimate, local, level and get to know a location 'from the inside'. Learn how things began, what makes the city tick, and where the 'must go, must see' places are. If this is you then you have come to the right place.
So, for those of you who come to Las Vegas and want to do more than just walk 'the strip', come spend a couple of hours with us. We're sure you'll have a wonderful time learning about and experiencing a Las Vegas you didn't know existed.
We know you're looking for things to do in Las Vegas, why not consider a walking tour! Las Vegas Walking Tours are fun, affordable, informative, and quite possibly the best travel activity. Walking tours accommodate families, couples, and even the single adventurous traveler while offering the opportunity to meet other travelers from around the world and possibly even make new friends.
"We really enjoyed it, was one of the highlights of our trip." – Jill Flynn – Glasgow, Scotland
Let Las Vegas Walking Tours take you on a journey through Downtown Las Vegas' historic Fremont Street that you can only get by foot. See Vegas like you've never seen before or didn't know existed as local residents and Vegas historians share their knowledge, passion, and enthusiasm of fabulous Viva Las Vegas!
Receiving the TripAdvisor 'Travelers' Choice' Award, 'Certificate of Excellence' five years running and awarded as 'Walking Tour Operator of the Year – 2020' by the Luxury Travel Guide, our group sizes are limited to help ensure a more personal experience with your guide who is pleased to answer all your questions. You will also be outfitted with a wireless ear-monitor and volume control to ensure you hear every word along the way. So feel free to jump in and join the conversation, or just sit back and take in the sites, sounds and stories.  There's a lot more to Las Vegas than meets the eye, let us lead the way.
"the best walking tour I have been on in 15 years!" – Greg Hare – San Diego, CA
Accolades:
USA Today – 10 Best 'Tours and Excursions in Las Vegas' – 2021
TripAdvisor 'Travelers' Choice',  'Certificate of Excellence'- 2016-2020
Luxury Travel Guide / Prestige Awards – Winner 'Walking Tour Operator of the Year – NV', 2017, 2020, 2021
Travel and Hospitality Awards 'Walking Tour Company of the Year – Americas/Nevada', 2018, 2021
Travel and Hospitality Awards 'Tour Company of the Year 2019 – Americas/Nevada'
Best of Las Vegas 2017, 2018 – 'Best Tour'
Viator 'Top Rated'
A highly informative tour! Visiting Vegas and not taking the time to enjoy the Downtown walking tour is like ordering a pizza and not getting any toppings - you're simply... read more missing out on the best parts! From the very first moment, the Small-Group Downtown walking tour was nothing short of an exhilarating venture into the vibrant origins of Sin City. Kelly, our incredibly knowledgeable and friendly guide, led us through the historic streets of downtown, intertwining present-day allure with stories of yesteryears that truly brought the glittering surroundings to life. The walking pace was leisurely, yet covered enough ground to keep things exciting, offering numerous photo opportunities at iconic landmarks. The neon lights of Fremont Street created a mesmerizing backdrop as we delved deep into the rich history and modern renaissance of downtown Vegas. Highlights included fascinating insights into legends such as the Goodmans, Steve Wynn, and Tony Hsieh. We saw many impromptu performances from street artists, and hidden gems (behind the facades) that one might overlook without the expert guidance of our tour leader. But what set this tour apart was the guide's undeniable passion for Las Vegas. Kelly managed to paint a vivid picture of the city's evolution from a humble railroad town to the entertainment capital of the world, all while pointing out the fine details that make downtown Vegas so special. From the relatively new 1995 canopy to historic architecture, every corner had a story to tell. Additionally, the tour included several stops at local eateries and shops, where we had the chance to note where in the future we could take in some gastronomic delights and pick up unique souvenirs. Not only did we explore the famous sights, but we also got a taste of the local culture, which was an absolute treat. In conclusion, whether you are a first-time visitor or a seasoned Vegas veteran, the Las Vegas Downtown walking tour is an immersive experience that offers a perfect blend of entertainment, history, and local flair. A dazzling stroll through the heart of Vegas that is not to be missed!

Norbert C


September 15, 2023

Must-do-experience - It was an amazing experience to walk through 'Old Las Vegas' where it all began. We had a super nice guide who told a lot of lovely details and knew... read more a lot about the city. Downtown is even worth to explore than the strip is - and with the walking tour you're getting a Downtown expert. Also you get valuable tips from your guide regarding restaurant, bars, hotel, .. (we tried 2 restaurant tips and it was delicious). Fully recommend this tour 🙂

Tessa G


September 13, 2023
Our guests' health is always a priority and we have put extra measures in place to help ensure your safety!
Our guides are

fully vaccinated

.



Stringent Cleaning – Audio headsets will continue to be cleaned & sanitized before each tour with disinfectant aerosol and wipes. Each headset now also receives a 'deep-clean' via HoMEDICS® UV-CLEAN Sanitizer which has been clinically proven to kill up to 99.9% of bacteria & viruses at the DNA level with UV-C light.
Masks are no longer required in public places nor on our tours however we do visit inside two properties so please feel free to continue mask use at your discretion.